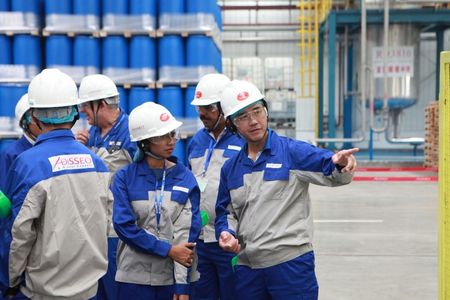 Adisseo is one of the world's leading experts in feed additives
The group relies on its 8 research centres and its production sites based in Europe, USA, China and Thailand to design, produce and market nutritional solutions for sustainable animal feed. With more than 2,520 employees, it serves around 3,900 customers in over 110 different countries through its global distribution network.
The group most recent acquisition is FRAmelco in 2020, which is part of Adisseo's strategy to boost Specialties growth to become one of the worldwide leaders of specialty feed ingredients in animal nutrition.
The Sustainable development is at the heart of Adisseos' activities: Our products enable us to reduce the environmental impact of livestock production and we are constantly improving our processes to optimize our resources and reduce waste. Better still, we also have ambitious plans to protect the environment by offering high-performance nutritional solutions that reduce the consumption of energy resources, optimize the use of productive agricultural land, the judicious use of plant protection products and reduce the volume of organic waste generated by livestock farms.
Corporate website: https://www.adisseo.com/
Versatile Use – Farm Vaccination with the HSW F-Grip Syringe. high quality materials, best performance and flexibility at an attractive price-benefit ratio. Due to its ergonomic design fatigue-proof injections over ...
Continent Africa is getting more and more importance for the Vencomatic Group due to the increase of poultry production in emerging markets and modernization in excisting markets.
...
Hendrix Genetics is more than pleased to participate in the VIV Poultry Africa exhibition in Kigali. Representatives from SASSO, Hybrid, ISA Export and BU Layers will be present to tell you all about our latest produc...
During Poultry Africa VDL Agrotech and VDL Jansen will jointly present themselves on stand C05. With a focus on innovation and making the food chain more sustainable we will present the latest developments of both com...
Big Dutchman has complete systems for poultry production both egg and meat production in environmentally controlled houses or semi-open houses. We cater to all customers from small-scale to large-scale farmers.
...